Midday Stock Roundup
Thursday, June 27, 2013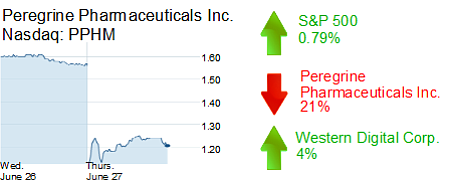 The S&P 500 rose 0.79% to 1,616 in midday trading Thursday.
The Dow Jones industrial average was up 0.85% to 15,036.35, while the Nasdaq was up 0.90% to 3,406.49.
The yield on a 10-year Treasury bond was down 1.77% to 2.49%.
The price of gold was off 0.34% to $1,225.40 per ounce.
HEALTHCARE
Tustin-based Peregrine Pharmaceuticals dropped about 21% to $1.24 for a market value of $170.02 million after the company said it will not move forward on clinical studies on a treatment combination that includes its bavituximab lung cancer drug candidate.

TECHNOLOGY
Irvine-based disk drive maker Western Digital Corp.'s shares were up about 4% to $62.87 for a market value of $14.86 billion. An analyst from Longbow Research upgraded the company's stock along with that of Western Digital competitor Seagate Technology Inc. from "hold" to "buy." Cupertino-based Seagate was up about 5% to $44.74 for a market value of $16.04 billion.
REAL ESTATE
Homebuilders were generally up on Thursday. The National Association of Realtors reported that its index of pending home sales rose 6.7% to 112.3, the highest it has been since late 2006.
Irvine-based TRI Pointe Homes Inc. rose about 2% to $15.06 for a market value of $475.85 million.
Irvine-based Standard Pacific Corp. was up about 2% to $8.37 for a market value of $2.9 billion.