Midday Stock Roundup
Wednesday, June 26, 2013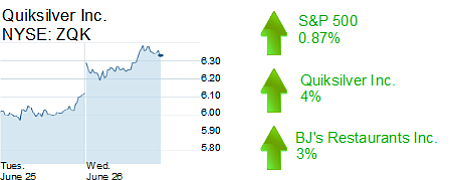 The S&P 500 was up 0.87% to 1,601.88 in afternoon trading Wednesday.
The Dow Jones Industrial Average rose 0.87% to 14,889.46, while the Nasdaq rose 0.82% to 3,375.24.
The yield on a 10-year Treasury bond was down 0.77% to 2.57%.
The price of gold was off 3.46% to $1,230.70 per ounce.
APPAREL/RETAIL
Huntington Beach-based Quiksilver Inc. continued its rise from Tuesday, up about 4% to $6.34 for a market value of $1.06 billion. The action sports apparel maker and retailer closed up about 4% on Tuesday.
Action-sports retailers were up on Wednesday with Anaheim-based Pacific Sunwear of California Inc. leading the way. Pacific Sunwear's shares were up about 5% to $3.16 for a market value of $215.81 million.
Pacific Sunwear competitor Zumiez Inc. of Lynnwood, Wash. rose about 3% to $27.99 for a market value of $844.6 million. Irvine-based Tilly's Inc. was up slightly—less than 1%—to $15.35 for a market value of $425.44 million.
RESTAURANTS
Huntington Beach-based BJ's Restaurants Inc. rose about 3% to $36.93 for a market value of $1.04 billion. The company on Tuesday said it opened a BJ's Restaurant & Brewhouse in Oregon, its 134th location, and confirmed plans to open as many as 12 more this year.
HEALTHCARE
Irvine-based CombiMatrix Corp.'s shares fell back about 12% to $3.40 for a market value of $12.19 million. That's after the molecular diagnostics company closed up about 6% on Tuesday after the company said it received conditional approval from the New York State Department of Health for its prenatal miscarriage test.