Midday Stock Roundup
Monday, June 24, 2013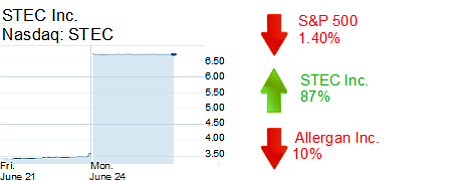 The S&P 500 was down 1.40% to 1,570.13 in afternoon trading Monday.
The Dow Jones industrial average fell 1.06% to 14,642.51, while the Nasdaq slipped 1.31% to 3,313.32.
The yield on a 10-year Treasury bond rose 3.38% to 2.60%.
The price of gold was down 1.24% to $1,275.70 per ounce.
TECHNOLOGY
Shares of disk drive maker STEC Inc.'s shares shot up about 87% to $6.71 on news that Irvine-based Western Digital Corp. plans to buy the company for $340 million in cash. Santa Ana-based STEC had a recent market value of $314.2 million.
Western digital Corp.'s shares were down about 3% to $58.29 for a market value of $13.78 billion.
HEALTHCARE
Irvine-based drug maker Allergan Inc. continued its slide from Friday after the Food and Drug Administration released draft guidelines that could make it easier for a generic competitor to Allergan's Restasis eye treatment to come to market. Allergan's shares were down about 10% to $84.06 following analyst downgrades. Allergan had a recent market value of $24.92 billion.
REAL ESTATE
Irvine-based homebuilders were generally down on Monday with Standard Pacific Corp.'s shares off about 4% to $7.78 for a market value of $2.7 billion.
Newport Beach-based William Lyon Homes was off about about 2% to $23.31 for a market value of $732.8 million.
Irvine-based TriPointe Homes Inc. slipped about 8% to $14.43 for a market value of $455.94 million.