Dragonfly Clothing New Fender Licensee
Monday, June 24, 2013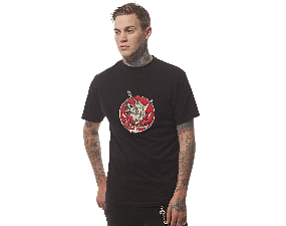 Dragonfly Clothing, a Fullerton-based rock 'n' roll-inspired apparel company, will make a new line of clothing for guitar maker Fender under a recently struck licensing deal.
Scottsdale, Ariz.-based Fender Musical Instruments Corp., which had its start in Fullerton, said Dragonfly will design a line "inspired by Fender's rich music history."
The line, which is only for men, includes T-shirts, work shirts, wovens and jackets ranging in price from $38 to $124.
It is expected to roll out this summer and will be sold in specialty and higher-end department stores in North America and Europe.
The license had previously been held by Los Angeles-based Defiance USA Inc.