WANG SEES IRVINE CAMPUS, DIVERSIFIED ELECTRONICS BRAND
Vizio's Vision
Sunday, June 23, 2013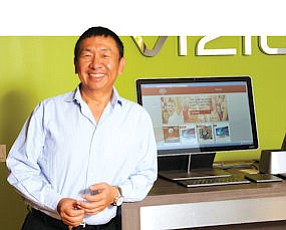 China-based companies account for most of the sales, with prices typically ranging from $70 to $120.
Vizio has made a specialty of carving out big chunks of market share by developing products—flat TVs, most notably—at lower prices than market leaders. Its TV sales grew rapidly since the company started in 2002, accounting for the bulk of its sales.
The company has made similar gains in smaller segments such as sound bars and other TV accessories.
Vizio projects to sell some 1 million speaker bars this year, according to Wang, solidifying the top position in a market segment it shook up three years ago with a debut product priced under $200.
"When we went into that market, we just wanted to give consumers better sound," according to Wang. "We kind of recreated that category, made it easier to use, easier to set up. We continue to dominate that space."
The company's quick ascent up the ranks in the audio market stands in contrast to its entry into the sluggish computer sector with its first lines of laptops and all-in-one desktops.
Its first-generation PCs hit shelves about a year ago with distribution deals lined up with Walmart, Sam's Club, Costco, Target and Amazon.com, among others—a distribution roster that helped it quickly rise to the leader board in HDTV sales in the U.S.
Vizio won't release sales figures for PCs, but the company has yet to gain meaningful market share, according to industry trackers.
Executives have learned some important lessons about the industry, though, in the early going.
"We're still new to this business, so we've had some missteps," said Rob Kermode, director of product management. "We corrected all those problems."
The company and its stable of Asian contractors struggled to develop user-friendly track pads that help users navigate seamlessly through applications with their fingertips.
"We still think we can make more improvements, and we're looking at those options," Kermode said.
It took Vizio two years to develop its PC lineup. The newer, sleek models, released in March, feature HD touch screens and Windows 8 but aren't loaded with unnecessary software packages that slow down performance and are typically unwanted by consumers.
Apple
The PCs have a starting price of about $1,100 as they take on Apple Inc.'s MacBook Pro and Air models, as well as higher-end entries from Toshiba, Lenovo and other brands.
It's a markedly different strategy than the company has taken in the TV segment.
"We felt there was a lack of good, quality PCs at an equivalent basis of Apple at an affordable price," Wang said. "We all learned a lot from this experience and launch. We picked up a lot of good tactics."
The PC industry is heavily influenced by Microsoft and other software makers, as well Intel, the world's largest chipmaker.
"Their direction has a lot to do with the whole industry," Wang said. "Versus TV, we pretty much tell the consumer what will be the next technology."
LED Bulbs
Then there are light-emitting diode bulbs.
Vizio announced plans to make and market LEDs in 2011 and pulled back within months. It remains one of the world's largest buyers of the power-saving-but-expensive bulbs used extensively in flat TVs, and hasn't given up on the idea entirely.
"We're trying to provide the right value," Wang said. "We've been seriously looking at the space for quite some time, and we're not ready for it yet."
Prev Next