14-STORY TOWER IS ITS FIRST THERE SINCE 2007
Irvine Co. Back in San Diego for Office Development
Sunday, June 23, 2013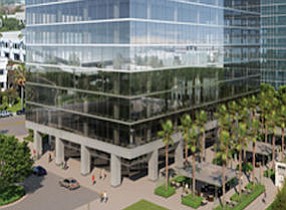 Property records show a Newport Beach-based LLC buying the building. The deal was a good opportunity for the undisclosed buyer to invest in the office market around Tustin Legacy, which could see rising prices once development there moves ahead, according to Anthony DeLorenzo, a broker with the investment properties group of CBRE Group Inc.
DeLorenzo and colleagues Gary Stache and Pat Scruggs marketed the building for the seller, which property records show being based in El Cajon.
CalPac Back
California Pacific Homes Inc. is back in the homebuilding business.
The Irvine-based company, which had been one of the most active builders on the Irvine Ranch until recently, said it will soon be building homes at a trio of projects at the Portola Springs and Cypress Village communities in Irvine.
The builder had been keeping a low profile in the homebuilding industry the past few years while staying active as a general contractor for Irvine Co.'s busy apartment development division.
The homebuilder, previously known as The Bren Co., was started decades ago by Donald Bren, chairman of Irvine Co.
He sold the company in 2000 on undisclosed terms to his son, Cary Bren.
Newport Homes
Newport Palisades Collection, a 25-home project near the Newport Beach Golf Course, has opened for sales.
The gated community is a few blocks from Bristol Street on Orchard Drive. It's being marketed as the only new home development for sale in Newport Beach with prices less than $2 million.
Homes at the project range from 1,695 square feet to 1,814 square feet and are being priced in the high $600,000s.
The project's builder is Mesa Orchard Associates LLC of Newport Beach.
Prev Next