14-STORY TOWER IS ITS FIRST THERE SINCE 2007
Irvine Co. Back in San Diego for Office Development
Sunday, June 23, 2013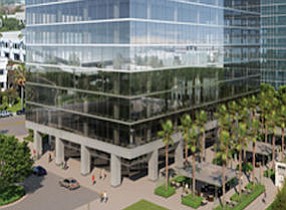 The Irvine Company hasn't done as much development in San Diego as it has in other large office markets of late, but that's about to change.
The Newport Beach-based real estate owner and developer, which owns more than 7 million square feet of offices in San Diego County, where it's the largest office owner, has begun unveiling plans for a new office tower near La Jolla at an existing office campus it owns.
The University Town Centre project, called La Jolla Centre III, is slated to run 14 stories and about 306,000 square feet.
Two existing 10-story buildings at La Jolla Centre, which is just off the 805 Freeway at La Jolla Village Drive, combine for about 300,000 square feet.
The office development will be built on a speculative basis and should be completed by mid-2015, according to officials with Irvine Co., which ranks No. 9 on this week's Business Journal list of Orange County's largest private companies (see list on page 14).
"We anticipate strong demand for La Jolla Centre III, given office occupancy of more than 90% in the University Town Center market and limited new class A office space in UTC or neighboring Del Mar," company spokesperson Mike Lyster said.
Irvine Co.'s office portfolio runs about 38 million square feet in California. It's the largest office landlord in the state, and OC is its largest market.
Irvine Co. has a pair of office towers under way near its headquarters in Newport Center and also has large developments in the works in Silicon Valley but hasn't done much in the way of office development in San Diego since 2007.
It proposed a 34-story office tower for downtown San Diego prior to the last downturn, but that project has yet to move ahead.
The La Jolla Centre has seen some grading and other early-stage work, but ground-up development is likely still a month or two away.
New York architects Pei Cobb Freed & Partners, a frequent Irvine Co. office development partner, is designing the project.
Red Hill Sale
A nearly 50,000-square-foot office across the street from the Tustin Legacy development has sold for a little less than $9.2 million.
Carnegie Centre II, a two-story office at 2510 and 2520 Red Hill Ave. in Santa Ana, traded hands between a pair of private investors.
The 48,972-square-foot building sold for about $187 per square foot. The property is fully leased, with title company Fidelity National Information Services occupying nearly 80% of the building under a recently renewed five-year lease.
Prev Next