HEALTHCARE: DEVICE MAKER ON 20% GROWTH CLIP LATELY
Endologix to Double HQ With Spectrum Move
Sunday, June 23, 2013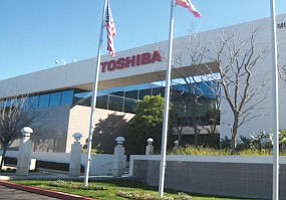 Endologix looked at other buildings in Orange County but "had a strong bias towards wanting to stay in the Irvine area and preferably as close to our current facility as possible," Abraham said.
Tim Schramm, a principal with Cresa Partners' Newport Beach office, represented Endologix. The company is also using Cresa's project management team.
Cresa and Schramm "did a fantastic job. They were 100% focused on our needs; they spent time to get close to our company to really understand our needs and our key trigger points," Abraham said.
Endologix' willingness to lease both buildings "made the deal a little more compelling to us," said Trent Walker, a senior vice president in Voit Real Estate Services' Irvine office who represented Northwestern Mutual.
"We looked at this as a pretty good deal. Endologix is an up-and-coming company," Walker said.
Endologix, which had a recent market value of about $834 million, has posted more than $60 million in losses the past two years but continues to get Wall Street's attention for its product lineup and research and development. Analyst coverage expanded in 2012 while company executives tirelessly stumped the industry-conference circuit.
Abdominal aortic aneurysms are found in about 1.7 million Americans, primarily men older than 65. Sufferers have a 70% mortality rate if the problem's not repaired, according to the company.
"We are a smaller company relative to our competitors, and our strategy has been over the last several years very clear— that we will grow and take market share through innovation. So far, that's working well for us," Chief Executive John McDermott told the Business Journal late last year.
Endologix in last year's interview with the Business Journal made it clear that it intended to keep its manufacturing in Orange County.
"We don't have any plans to move it," said McDermott, who joined Endologix in 2008 after running the peripheral vascular business of Murray Hill, N.J.-based device maker C.R. Bard Inc.
Endologix has a "well-developed and a well-established workforce. It takes years to get the right people and the right training," McDermott said. "It's not worth it to us to disrupt that."
Prev Next