HEALTHCARE: DEVICE MAKER ON 20% GROWTH CLIP LATELY
Endologix to Double HQ With Spectrum Move
Sunday, June 23, 2013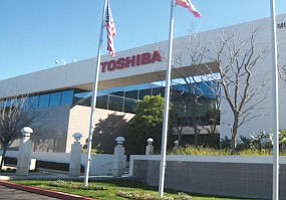 Endologix Inc. is doubling its space with its move to a new corporate headquarters.
The Irvine-based maker of medical devices for treating aortic abdominal aneurysms will move to a new location within the Irvine Spectrum, according to a Securities and Exchange Commission filing.
Endologix said it signed a lease agreement June 12 with Milwaukee-based Northwestern Mutual Life Insurance Co. for a pair of buildings at 2 Musick and 35 Hammond.
The lease starts Jan. 1 and runs for 15 years; Endologix will pay $1.941 million a year as its initial base rent, according to the filing.
The two buildings have 129,000 combined square feet and will replace the company's existing facilities at 11 Studebaker and 1 Hughes, according to the filing.
Units of Japan-based conglomerate Toshiba Corp. previously occupied both buildings. Toshiba recently vacated the Musick building and left the Hammond building about 10 years ago.
Endologix is moving because it has outgrown its current facilities, which have about 57,000 square feet of space between them, said Todd Abraham, the company's vice president of operations.
"We have the high-class problem of continued significant growth," he said.
Endologix has annual sales of some $105 million and has been growing revenue at roughly a 20% clip over the past few years, according to Abraham.
"We project that we will run out of capacity if we didn't make a move—we want to make sure we stay ahead of that growth curve."
"Staged Move"
Endologix "will be planning a staged move, starting probably in the very late second quarter of 2014, and then we would complete it targeting the end of Q3 2014," Abraham said.
Musick and Hammond will require "pretty significant" renovation before Endologix moves in.
"It's pretty much a complete do-over internally in each building to get them to meet all of our specific needs," Abraham said, adding that laboratories, clean rooms and warehousing will be among the changes.
Endologix Inc.
• Headquarters: Irvine
• Business: Medical device manufacturer
• Founded: 1992
• Ticker symbol: ELGX (Nasdaq)
• 2012 revenue: $105.9 million
• Recent earnings: ($9.3 million) for Q1
• Market value: About $834 million
• Notable: Signed lease for two buildings that will about double space in Irvine Spectrum to 129,000 square feet
The device maker hasn't yet picked a contractor. It has tapped David Oh, West Coast workplace studio leader for Charlotte, N.C.-based Little Diversified Architectural Consulting, as the project architect. Abraham has worked with Oh on previous jobs.
Prev Next