REAL ESTATE: LAND-BUYING ENTITY TO STAY PRIVATE, AFFILIATED
City Ventures to Take Homebuilding Public
Sunday, June 23, 2013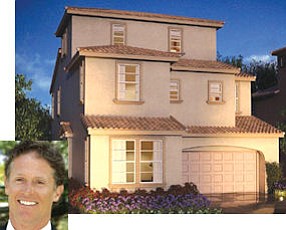 City Ventures Inc. plans to separate homebuilding operations from its aggressive land-buying business as part of a $150 million initial public offering in the works for the Newport Beach-based company.
City Ventures, created at the start of 2009, filed IPO plans with the Securities and Exchange Commission last week. It will join a trio of other Orange County homebuilders on the IPO trail, including two that went public earlier this and another with recently filed plans.
The four area builders—newly public Irvine-based TRI Pointe Homes Inc. and William Lyon Homes in Newport Beach, along with City Ventures and Aliso Viejo-based The New Home Co. (see story, page 1)—look set to raise nearly $775 million in total from their respective IPOs.
TRI Pointe, William Lyon Homes and New Home Co. expect to use the bulk of their IPO proceeds to acquire land in California from a variety of developers, cities and other sources.
City Ventures has a different plan. The company expects to use most of its IPO proceeds to buy land directly from a newly created affiliate, which the SEC registration statement lists as CV LandCo.
City Ventures currently owns or has access to 8,858 home lots in coastal urban infill and suburban California markets, the company's registration statement said. About 75% of those lots will be owned by CV LandCo following the IPO.
By comparison, TRI Pointe owned or controlled about 2,162 lots as of March, while William Lyon Homes has about 13,200 lots under its control, and New Home Co. owns or controls 3,730 lots.
Deals
Deals are currently in place for City Ventures to buy 2,304 lots from CV LandCo for $363 million in a series of three transactions whose options run through September 2014.
Those three deals include nearly 900 home lots in Buena Park, Costa Mesa, Fullerton, Santa Ana and Yorba Linda, according to SEC filings.
The company's relationship with CV LandCo means that the builder will be able to buy land "at prices that will enable us to maintain our existing margin structure, assuming modest increases in housing prices and construction costs in our markets," City Ventures said in its registration statement.
The relationship "provides us with a strong pipeline of land at low risk, while enabling us to be selective and opportunistic in pursuing land acquisition opportunities from third parties," the company said.
Atkins and Buckland
Craig Atkins and Mark Buckland, who founded City Ventures, own substantially all of the outstanding equity interests of CV LandCo, which has amassed about $400 million in debt since its formation to acquire its land holdings, according to SEC filings.
Prev Next