Vans Gives Details on U.S. Open
Friday, June 21, 2013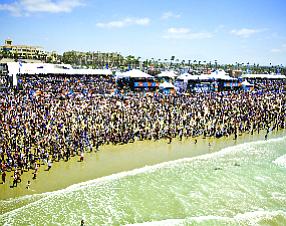 Cypress-based Vans Inc.'s title sponsorship of the U.S. Open of Surfing in Huntington Beach is taking shape with additional events that will carry the brand's name.
The annual surfing event, running July 20-28, features surfing and skateboarding competitions, live music and entertainment.
Vans will hold the first Van Doren Invitational for skateboarders, named after the company's founding family. The bowl riding competition is invitation only.
A traveling music stage called the House of Vans will have concerts, while Van Doren Village will serve as an area for autograph signings, exhibits and DJs.
Vans, part of Greensboro, N.C.-based VF Corp., inked a three-year deal to be title sponsor after Beaverton, Oregon-based Nike Inc. said it would not renew its contract last year.
Nike units Hurley International LLC of Costa Mesa and Andover, Mass.-based Converse Inc. also declined to renew their sponsorship deals for the event.
Nike said in November that it would pull its namesake brand out of surf and shift that business to Hurley.
The U.S. Open is held annually in Huntington Beach and is produced by New York-based IMG Worldwide.
Last year's event drew about a million visitors to Huntington Beach.