TAKEDA LAUNCHED BOUTIQUE RECRUITER IN DOWN TIMES
Relationship BuilderRager
Sunday, June 16, 2013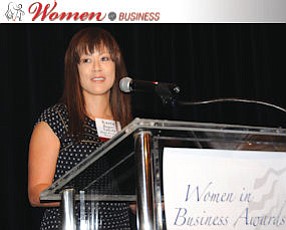 Recruiting firm Rager Resources Group LLC launched at the start of the last recession and over the following five years built a client portfolio that includes big names such as Hyundai Capital America and NBCUniversal Inc.
The company got there by doing more than just crunching numbers.
"I just wanted to give more service," said Karen Rager-Takeda, president of Rager Resources. "When you work for many of the search firms, it's really all about metrics and what you can do for me now. You're always having to replenish, because you're not taking the time to build relationships."
Rager-Takeda was one of five women honored at the Business Journal's 19th annual Women in Business Awards luncheon at the Hyatt Regency Irvine on June 4 (see related stories, pages 1, 4, 7 and 8).
Rager Resources has more than 30 corporate clients and is headquartered in Irvine, with a staff of nine recruiters based here and throughout the United States.
The firm focuses on placing individuals in accounting, finance and information technology positions; they are sectors that Rager-Takeda said fascinate her because everything from technology to accounting regulations are constantly changing in those industries.
That constant flux is similar to the world of recruiting, she said.
"Recruitment is always changing," she said. "Before, you used to post on a job board, and people would apply. Today, you not only have to cold call, but you really have to develop relationships. It could take me a year to get a candidate to move and make that jump to another company."
LinkedIn
Social media, particularly LinkedIn, has impacted how Rager-Takeda and her peers reach out to prospective hires.
Cold calling is still a big part of the business, but Rager-Takeda now does most of it through social media.
She said she gets 95% of her candidates through LinkedIn's Recruiter platform, which provides data and other detailed pieces of information.
Rager Resources placed 26 executives last year, Rager-Takeda said, and all of them came through LinkedIn, as have the 10 placements the firm has made so far this year.
Rager-Takeda's success with LinkedIn has even gotten her speaking time at some of the social networking site's recruiting conferences, where she shares the success she's had with LinkedIn Recruiter.
Recruiting, even with the changing digital landscape, ultimately boils down to relationships, she said, and that's one of the factors she credits for her company's achievements.
Beginning
She started the firm during the recession with only one other employee.
"The very first week [in business], I made a placement, so that was encouraging," she said. "I didn't know if I would be good at this, and I didn't want to fail, so every time I started questioning myself and started looking for a corporate position, within 24 hours an old client would call."
When the recruiting industry contracted as hiring slowed during the downturn, Rager-Takeda said she took that period to build the business by speaking at networking events.
Rager-Takeda went to school originally to study fashion design and management and earned an associate's degree at the Fashion Institute of Design and Merchandising in 1982.
But the reality of long hours working seven days a week set in after graduation as she realized she couldn't afford the clothes that attracted her to the industry in the first place.
"So I went to get a job that paid for the clothes I liked," she said.
She got a job working in human resources, which led to her eventual jump into recruiting.