CUPPS KEY ON NEW FUNDS, LINKS TO WOMEN RECRUITS
Pimco's Product Manager
Sunday, June 16, 2013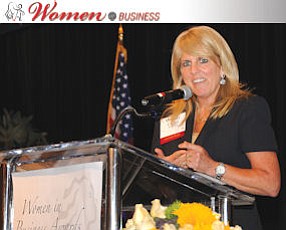 "That's partly why my husband did this nomination [for the Women in Business award]," she said. "He wanted to show them the success you can have and why am I doing this."
Her daughters get a chance to see more of their mom's work personality when she opens their home to host potential Pimco hires, providing a chance for them to meet Gross and Pimco Chief Executive Mohamed El-Erian.
"I host an event every year at my house," Cupps said. "We have a women's event for two days, where we bring young women in from different schools, and they get to meet Mohamed and Bill, and we train them. We're making sure we're attracting women from undergrad and graduate school."
Pimco is even more concerned when it comes to hiring and promoting women in higher levels of management, Cupps said.
"At the higher level, we're focused a little more … about whether we have diversity in the decision-making group," Cupps said. "I think the numbers are fine at the entry level. We've made a lot of progress, but we still have a long way to go. We find that women aren't sometimes as good at promoting themselves. We're helping women with mentoring and other leadership programs."
Prev Next