REAL ESTATE: WOULD BE JUST 2ND SIZABLE NEW PROJECT HERE SINCE 2008
Los Olivos Plan Puts OC Retail Back in Action
Saturday, June 8, 2013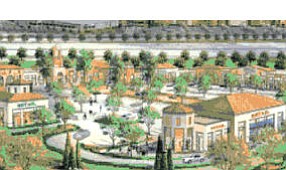 Irvine Co. does not disclose overall retail sales for its shopping center tenants but said they rose 7.3% in 2012 and 7.5% in 2011.
The national average for year-over-year sales growth was about 5% during each of those two years, according to marketing materials Irvine Co.'s retail division prepared in recent months for prospective shopping center tenants in the area.
Renderings of the 100,000-square-foot Los Olivos retail development suggest a mix of restaurants, service-oriented stores, and perhaps a grocery store. Specific tenants for the proposed development have not been announced.
"We are in the planning stages for the second phase of Los Olivos Shopping Center, which is designed to meet the needs of new and existing residents in the Irvine Spectrum area as well as nearby office workers," said Irvine Co. spokesperson Mike Lyster. "We are carefully planning the right mix of retailers and expect to see everything from dining to stores catering to daily needs."
The two phases of the Los Olivos retail center would combine for 162,000 square feet at full build-out, slightly larger than the nearest grocery-store-anchored center in the area, the 144,000-square-foot Quail Hill Shopping Center, which also is owned by Irvine Co.
Aggressive Development
The new retail project for Los Olivos is another example of Irvine Co.'s aggressive development plans for the Irvine Spectrum.
Last week's Business Journal detailed proposals by the developer to build nearly another 5 million square feet of offices in the area, along with several thousand more homes and apartments, in anticipation of strong employment growth in the Irvine Spectrum area.
The company said in marketing documents that it expects to see close to 20,000 new office jobs there over the next five or so years.
"We're seeing growth in 2013 in both development and redevelopment," Sheridan said in a recent newsletter to members of the retail industry that highlighted store openings across the company's OC portfolio. "Our most aggressive expansion is occurring in the Irvine Spectrum."
The company is putting millions of dollars into upgrades at the Irvine Spectrum Center mall and is nearing the opening of a 50,000-square-foot PGA Tour Superstore at its 332,000-square-foot Alton Marketplace center. The golf-themed store is the first of its kind in Southern California.
More Than Apartments
The new retail center at Los Olivos will have more than the nearby apartment development within its draw area.
Irvine Co. also is planning a 1,950-home project to go up at the current site of the Verizon Wireless Amphitheater.
That project, which would be just down the street from the new retail center, won't move ahead until the amphitheater's lease for the site ends in 2017.
Prev Next