IRVINE-BASED BRAND HAS LAPPED EXPECTATIONS ON SALES
Asics Gets Ahead
Saturday, June 8, 2013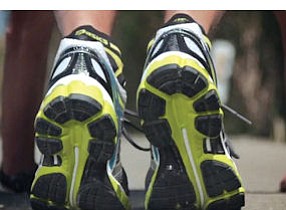 Sales of Onitsuka are up in the "very strong double digits, and we expect to continue growth," Wulff said.
The 225 workers at the company's Irvine headquarters have supported the recent growth.
The company has 460 total employees in the U.S.
It made a bold move on the marketing front earlier this year, when Asics America moved up from being last year's official apparel and shoe sponsor to title sponsor of the newly renamed Asics LA Marathon, held in March. The multimillion-dollar investment gave the brand major play and solidifies the company's place in the running world on both coasts. Asics is also a sponsor of the New York City Marathon.
Asics America currently counts on various sporting goods chains and specialty retailers—Sports Authority, Foot Locker and others—for most of its retail sales. Now the company is working to grow its retail lineup. It has only one company-owned store, in New York City, with plans to grow that part of the business.
Wulff said the company will unveil details in the coming months.
Brand Identity
The challenge, as Asics America continues to grow, will be retaining its brand identity, Eder said.
"For them to succeed in the future, innovation's got to be key, but they also need to remember where the bread and butter is. Running is still their biggest business," he said. "When a brand decides, let's try some new things, and they don't support the people who supported them, that's when brands get hurt."
It's a finer point Wulff recognizes.
Onitsuka will continue to be the fashion/lifestyle brand, while the company's namesake will remain associated with performance.

"… we will never compromise innovative performance product," he said. "There's always that link to performance products, no matter what category, what athlete or enthusiast is using our product."
Prev Next