IRVINE-BASED BRAND HAS LAPPED EXPECTATIONS ON SALES
Asics Gets Ahead
Saturday, June 8, 2013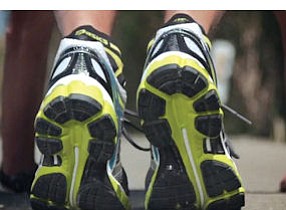 Sales Goal
The current expectation that Asics America will meet its $1 billion sales goal a year early has it reaching further under its parent's five-year plan. It now is expected to bring in about $1.25 billion by 2015, with more than $1 billion coming from the U.S. alone, Wulff said.
It will stick to basics as it pushes to meet the upward revision.
"The greatest focus is on product innovation to fuel that growth and to reach new consumers and continue to create new focus on the running category," he said.
The latest version of the light-weight running shoe called the Gel-Nimbus 15 recently launched, and the 20th edition of the Gel-Kayano will launch this year.
Other categories that have seen growth for Asics America include training and tennis.
Footwear still makes up most of the company's revenue, although Wulff declined to cite a percentage.
Apparel and accessories is much smaller but has the potential to be a "huge growth opportunity" that "will become a more meaningful part of the business," Wulff said.
Take socks, which have allowed for growth in popularity of companies such as San Clemente-based trendy stock maker Stance.
The focus for Asics has been more on the technical side instead of styles inspired by punk rock and the Wild West, as in the case of Stance.

"There are new materials, new wicking properties, treatment that helps with odor," explained Asics America Marketing Director Shannon Scott. "Really, the secret is that they're knitted on hosiery machines for seamless toe linking. We started marrying the functions of our footwear with the socks."
That means, for example, that there's a Kayano sock to go with the Gel-Kayano shoe.
The goal isn't to make the split between footwear and apparel/accessories 50/50 but that the latter will grow, Wulff said.
New styles for the Onitsuka Tiger line are also helping boost sales.
In 2011, Wulff assembled a separate division in Irvine for Onitsuka Tiger made up of executives with experience working at brands such as AVIA, Reebok, Timberland and Oakley.
Onitsuka's Origins
Onitsuka, named after company founder Kihachiro Onitsuka, was originally sold from the 1950s to the '80s with its distinctive striped-line design.
The company relaunched the line in 2001 as a way to nab market share in the fashion/lifestyle segment of the footwear industry, bringing a new, younger customer to the brand ranging from 18 to 35.
"We call it making stripes hot again," Wulff said.