Automakers See May Sales Rise
Wednesday, June 5, 2013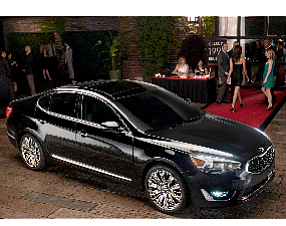 The pace of auto sales bounced back in May after an April slowdown.
Sales of automakers here and nationally combined to put the industry on track to sell 15.31 million vehicles for the year, according to Woodcliff Lake, N.J.-based Autodata Corp.'s online industry researcher Motor Intelligence. The annualized rate fell in April to below 15 million for the first time since October
Vehicle sales nationally rose 8.2% to 1.44 million last month, according to Motor Intelligence.
Orange County's largest automaker, Hyundai Motor America Inc. of Costa Mesa, sold 68,358 vehicles in May, up 2% from a year ago.
Sales were helped by the stronger economy and marketing for Hyundai's Assurance Connected Care, Hyundai Executive Vice President of National Sales Dave Zuchowski. Assurance Connected now comes standard for three years on vehicles equipped with the company's Blue Link technology system.
Kia Motors America Inc. of Irvine sold 52,327 vehicles in May, up about 1% from a year earlier.
Kia announced on Tuesday the launch of a new marketing campaign for its premium sedan the Cadenza, which rolled out to dealers last month with a starting price of $35,100.
Sales in May of the Cadenza totaled 466, which Kia Motors Chief Executive Byung Mo Ahn called "standout results."
Irvine-based Mazda North American Operations sold 24,270 vehicles, up 19.2% from a year earlier in the company's best May sales month since 2008.
Cypress-based Mitsubishi Motors North America Inc. sold 4,715 vehicles, down 15% from a year earlier or up 31 percent, excluding the impact of discontinued models. The company's monthly sales comparisons continue to be affected by discontinued models.