IRVINE COMPANY SEES 5 MILLION MORE SF OF OFFICES, 20,000 NEW JOBS
Full Spectrum
Sunday, June 2, 2013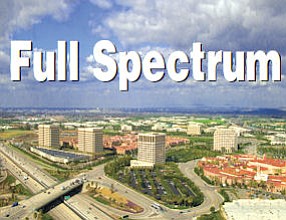 The development plans for the Spectrum area also are the latest sign of growth for Irvine.
Census Data
Census data released late last month showed Irvine to be the fastest-growing large city in California, and the eight-fastest growing large city in the country, between July 2011 and July 2012.
The city now has nearly 230,000 residents, after seeing its population grow by 4.2% during that time, the new census data show. Irvine is now Orange County's third-largest city, having passed Huntington Beach for that title in 2008.
The city also continues to be one of OC's leading sources of new jobs, and the proposed office development in the Spectrum appears designed to help it keep pace with the next round of employment growth in the area.
The Spectrum area currently counts about 3,500 companies and 80,000 employees, according to data from Irvine Co.'s office division.
As many as 20,000 additional office workers could be added to the Spectrum area over the next five or so years, according to projections cited by the company's retail division.
Campus Options?
The company's plans do not disclose whether individual office projects would be built on a speculative basis or for a specific tenant.
Office projects being considered by the company include a pair of office parks near the Santa Ana (5) Freeway and Sand Canyon Avenue that would each top 1 million square feet when built out.
A similarly sized project has also been proposed along the San Diego (405) Freeway between the Quail Hill and Laguna Altura housing communities.
The largest of those three projects would appear large enough to support a company such as Irvine-based Broadcom Corp., which is said to be eyeing locations for a new office campus.
The chipmaker has been in negotiations with the city of Tustin for nearly a year over a potential campus at the Tustin Legacy development to replace its current site at University Research Park, where it leases close to 900,000 square feet from Irvine Co.
Broadcom also is said to have eyed other locations in the area for a potential campus, including the Great Park in Irvine.
Other Irvine-based companies said to have considered sizable build-to-suit projects over the past couple of years include Blizzard Entertainment Inc. and Vizio Inc.
Real estate sources not affiliated with Irvine Co. said they wouldn't be surprised if the landlord moves ahead on at least one new speculative Spectrum office tower in the not-too-distant future, thanks to strong tenant interest in the area of late for the landlord's other high-rises.
The four office towers in the Spectrum that are owned by Irvine Co., totaling 1.3 million square feet, are about 97% leased, according to brokerage data.
The overall office market in the Spectrum area has a vacancy rate of about 10% for higher-end buildings compared with an average of about 15% for class A buildings countywide.
Housing
The Spectrum area also is expected to remain a source of new homes and apartments for years to come.
Irvine Co. plans a 1,950-home project to go up near the company's just-opened Los Olivos apartment complex on the current site of the Verizon Wireless Amphitheater. That residential project wouldn't move ahead until the amphitheater's lease for the site ends in 2017.
Also on the books for the area is a 150-home, high-end project south of Laguna Altura called Hidden Canyon. That project also is believed to be several years away from moving ahead.
Another two Spectrum-area apartment complexes, totaling about 1,340 units, are in the cards, near the company's existing Park and Village complexes. Those projects, tentatively called Centerpointe and Westview, are likely to be the next residential projects in the immediate area to move ahead for Irvine Co.
Prev Next