Knott's Gears Up for Hiring Spree
Wednesday, July 31, 2013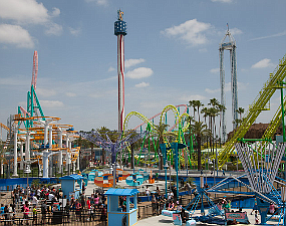 Buena Park amusement park Knott's Berry Farm is preparing for a two-day hiring event to fill more than 1,000 temporary slots open for its upcoming Knott's Scary Farm Halloween Haunt.
The annual Halloween Haunt starts Sept. 26 and runs for 24 nights, offering guests mazes and shows along with the park's slate of rides for the Halloween-themed event.
Knott's Berry Farm, part of Sandusky, Ohio-based Cedar Fair Entertainment Co., said it will hold a day-long rehiring event on Friday for those who have worked the event's mazes in the past. A second day-long hiring event will take place Aug. 5.
The two days of hiring are expected to attract more than 2,000.