Midday Stock Roundup
Friday, July 26, 2013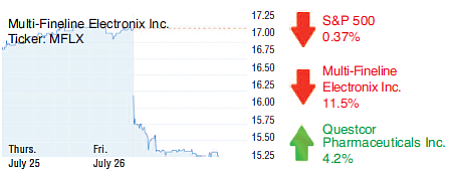 The S&P 500 slipped 0.37% to 1,683.98 in afternoon trading Friday.
The Dow Jones industrial average was down 0.52% to 15,475.18, and the Nasdaq was down 0.14%, to 3,600.15.
The yield on a 10-year Treasury bond also was off by 1.4%, at 2.57%.
The price of gold was down 0.69% to $1,316.60 per ounce.
Irvine-based Multi-Fineline Electronix Inc. shares were down 11.5% to $15.01, for a market value of about $357.9 million. The circuit boards maker, commonly called M-Flex, yesterday announced preliminary financial results for its June quarter, lowering guidance for expected revenue and gross margin. It will report earnings on August 8.
Shares of Anaheim-based Questcor Pharmaceuticals Inc. were up 4.2% to $50.16 ahead of its expected second-quarter earnings next Tuesday. Analysts are projecting about a 50% increases in revenue to $169.4 million, and a nearly 45% increase in earnings, to about $56 million. Questcor had a recent market value of $2.98 billion.
Irvine-based homebuilder Standard Pacific Corp. was up about 2.7% to $8.10, for a market value of $1.75 billion. The company yesterday reported increased profit and revenue in the second quarter.