Microsemi Beats on Earnings, In Line on Sales
Thursday, July 25, 2013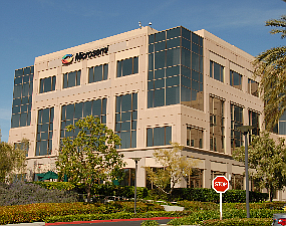 Aliso Viejo-based chipmaker Microsemi Corp. beat Wall Street's expectations on earnings and about met the mark on sales for the June quarter.
Microsemi yesterday reported an adjusted profit of $44.8 million for the period, down about 7% from a year earlier.
Wall Street analysts on average expected a profit of $43.88 million.
The company saw net sales during the quarter down about 6% from a year earlier to $242.6 million, about in line with analyst estimates.
Microsemi said it expects an adjusted profit in the current quarter to be in the range of $46.6 million to $50.3 million, in line with the $48.5 million that analysts project.
The company said it expects net sales in the range of $247.4 million to $252.2 million.
Analysts expect net sales of $250.29 million.
Microsemi released its quarterly results and current quarter guidance after market close on Thursday. The company made a separate announcement that it had inked a $75 million, two-year deal chip-development deal with the U.S. government.

The company's shares were down about 1% in early trading today to a market value of about $2.2 billion.