Kaiser Aluminum Misses Q2 Estimates
Thursday, July 25, 2013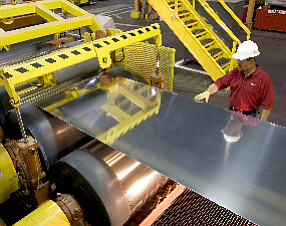 Kaiser Aluminum Corp. missed analyst expectations with decreased profit and sales in the second quarter.
The company cited weaker demand for its products and higher interest costs. Its shares dipped as much as 2.5% Wednesday in anticipation of the quarterly financial report. They're now trading 1.3% above Wednesday's close, bringing the company to about $1.24 billion in market value.
Foothill Ranch-based Kaiser Aluminum makes fabricated specialty aluminum products that are used in various industries, including aerospace, automotive and engineering.
It had $17 million in adjusted net income in the second quarter, down from $20 million in the year-ago period. Analysts had expected about $17.8 million in profit.
Sales totaled $329 million, down about 5% from a year ago, and below the consensus estimate of $353 million.
Kaiser Aluminum shipped 145 million pounds of products last quarter, versus 147 million a year earlier.
Chief Executive Jack Hockema said the company saw "a modest inventory overhang in the aerospace supply chain, primarily related to products other than aerospace plate, ongoing soft demand for the company's general industrial applications, and lower volume of automotive extrusions for anti-lock braking systems."
He added the company expects to see "strengthening underlying demand" for aerospace and automotive components in the second half of 2013.