Western Digital Beats Street in June Quarter
Wednesday, July 24, 2013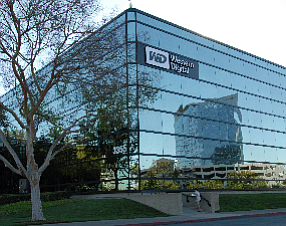 Western Digital Corp. on Wednesday reported June quarter revenue and adjusted profits that beat Wall Street expectations.
The Irvine-based disk drive maker posted sales of $3.7 billion, down nearly 23% from a year ago.
Analysts on average had forecast sales of about $3.63 billion.
Adjusted profits topped $477 million, down 45.2% from a year earlier.
Wall Street had expected adjusted profits of about $427.8 million.
The company said it sold 59.9 million hard drive units in the June quarter, down 15.6% from 71 million units shipped a year ago.
Hard drives use spinning disks to store data, unlike its growing line of solid-state drives, which use chips.
Western Digital's disk drives go into computers, external storage devices, corporate networks and consumer electronics such as DVR players.
For its fiscal year ending in June the company reported record sales of $15.4 billion, up 23% from the same period a year ago.
Analysts had forecast sales of about $15.25 billion.
Adjusted profits topped $2.1 billion, flat from the same period last year.
Wall Street was expecting an adjusted profit of about $1.97 billion.
Chief Executive Steve Milligan credited the gains to expanding the company's cloud and personal storage business lines.
Cupertino rival Seagate Technology Inc. also reported June financial results after the close of trading Wednesday that were better than Wall Street expectations and provided a revenue target in line with estimates.
Shares of Western Digital are down more than 5% in afterhours trading after the company provided revenue and profit targets in its quarterly conference call slightly below Wall Street expectations. Investors also may have seized on the revenue, adjusted profit and hard drive sales drops compared to a year ago.