Fainbarg's $250,000 for Santa Ana College Matched
Wednesday, July 24, 2013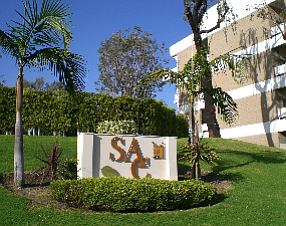 The Santa Ana College Foundation gave $250,000 to the school's scholarship campaign, matching the most recent donation by Allan and Sandy Fainbarg of Newport Beach.
Santa Ana College is a two-year college that serves about 18,000 students each semester. It also operates the School of Continuing Education, which serves about 13,000 students.
Santa Ana College is ranked No. 3 among California's community colleges—and No. 12 nationwide—in terms of associate degrees awarded to Latino-American students.
The latest couple of donations, added to previous gifts by the Fainbargs and the foundation's matching efforts, mark the first $1 million fund for Santa Ana College's Allan and Sandy Fainbarg Scholarship Endowment Fund.
The Fainbargs started the fund in 2000 with a gift of $100,000.
Allan Fainbarg, 94, counts deep personal and business ties to Santa Ana. He spent all his childhood there and graduated from Santa Ana College in 1940. He served in the U.S. Navy during World War II and went back to school, graduating from University of Southern California in 1947.
He then opened a war-surplus store in Santa Ana, which eventually became a retail clothing chain, Wild West Store. He sold the business to General Mills Corp. in 1981 and became involved in commercial real estate. His business ventures included developing Fiesta Marketplace in downtown Santa Ana.
Fainbarg owns S&A Properties in Costa Mesa.
He also is considered among the pioneers of the Jewish community in OC. His father was one of the founders of Temple Beth Sholom in Santa Ana, and Fainbarg currently serves as the vice president of community relations of the Jewish Community Foundation of OC.