Taco Bell Nixes Kid's Meals
Monday, July 22, 2013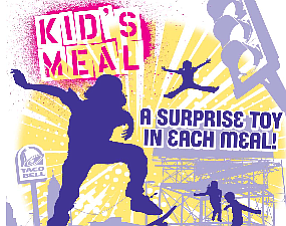 Irvine-based Taco Bell Corp. has started the process of discontinuing kid's meals and toys at its restaurants.
The chain said Monday that kid's meals will be removed from restaurants systemwide by January.
The crunchy taco, soft taco, bean burrito and cheese roll-up items on the kid's meals menu will still be available once the discontinuation is in full effect.

"As we continue our journey of being a better, more relevant Taco bell, kid's meals and toys simply no longer make sense for us to put resources behind," Taco Bell Chief Executive Greg Creed said in a statement.
The company, which has nearly 6,000 restaurants nationally, said sales of kid's meals are "not part of Taco Bell's long-term brand strategy and have had an insignificant impact on system sales."
Taco Bell is part of Louisville, Ky.-based fast-food chain operator Yum! Brands Inc.
The company's shares closed down less than 1% on Monday to a recent market value of $31.89 billion.