TIME ON MARKET SEES BIG DIP FROM YEAR EARLIER
Positive Perception Beats Summer Lull on Luxe Sales
Saturday, July 20, 2013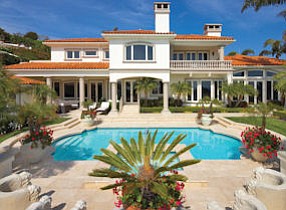 Shore Cliffs Home Sold
Homebuilder Tony Valentine left his mark on this five-bedroom, 6 ½-bath Shore Cliffs home at 174 Shorecliff Road in Corona del Mar.
The home includes a chef's kitchen, inlaid wood floors, a walnut-paneled library, areas for entertaining and other features.
It was listed in September for $6 million and briefly touched $6.5 million in March before being sold on July 3 for $5.5 million.
The home is 7,000 square feet and has a seven-car garage.
Tim Smith of Coldwell Banker Previews International listed and sold the property.
Surf's Up!
The home at 5405 Seashore Drive, directly on one of Newport's best-known surfing beaches, features 3,098 square feet of living space with an additional 962 square feet of deck space, five bedrooms, 4 ½ bathrooms, utility room and a finished basement. It sold on July 2 for $4.7 million, $500,000 under its February asking price.
The modern-style home has floor-to-ceiling windows that provide sand and water views that stretch to the horizon. Bifold glass doors lead to a wooden deck with direct access to the sand.
Chris Brigandi of Arbor Real Estate Professionals Inc. represented the seller. Susan Piazza of First Team Real Estate represented the buyer.
4 Gladstone Lane
The 8,200-square-foot, six-bedroom, 7 ½-bath home at 4 Gladstone Lane in Laguna Niguel sold on June 6 for $4.6 million, matching its March asking price.
The recently built estate is at the end of a gated driveway and on a 31,559-square-foot parcel with ocean, Catalina Island and city-light views.
There's extensive use of stone and walnut flooring throughout the home; it's designed for complete living, with a dance studio that can serve as a seventh bedroom and a home theater featuring a 110-inch screen, state-of-the-art equipment and stadium seating.
Giulietta Fox-Wilson of Prudential California Realty provided the listing. Ron Vasquez of First Team Real Estate represented the buyer.
Prev Next