TRADITIONAL INDUSTRIES STICK WITH OLD-SCHOOL OFFICES
Creative Types' Drive for Open, Fun Spaces Fuels Trend
Saturday, July 20, 2013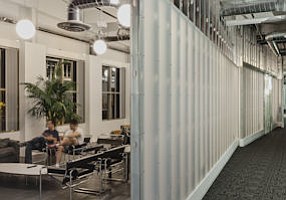 Creative-office space can offer sizable bottom-line benefits for landlords like Irvine Co. It can command a rent premium of between 18% and 25%, all things being equal, according to brokers with the Irvine office of Jones Lang LaSalle.
In some configurations, in addition to their higher-end finishes, the offices can accommodate many more employees per square foot, resulting in the higher rents.
Not all companies are good fits for the creative space, though. Mortgage, insurance and other businesses with large back-office staff, or any business looking to keep rental expenses at a minimum, are unlikely users of the offices.
Irvine Co. is looking to do similar conversions at other properties, and its marketing materials indicate there's also the opportunity to build upward of 900,000 additional square feet at Discovery Business Center.
There's been little talk of ground-up development of creative-office space in Orange County in the next year or two, with the exception of a new building proposed for the Summit Office Campus in Aliso Viejo.
Most area projects to date have been redevelopments of existing properties.
Depending on the amount of traction that the creative-space push gets in OC, it could impact how much new office development moves ahead in the next few years.
Prospective tenants could continue to look at reworked space at existing properties, such as Discovery Business Center, rather than at new projects, according to real estate sources.
Prev Next