TRADITIONAL INDUSTRIES STICK WITH OLD-SCHOOL OFFICES
Creative Types' Drive for Open, Fun Spaces Fuels Trend
Saturday, July 20, 2013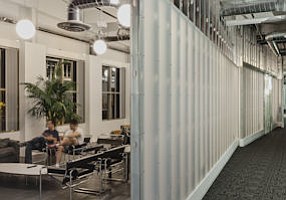 "It's fun and stressful," Weerasuriya said of the industry.
The 24-building, 1.3-million-square-foot Discovery Business Center office campus that holds Ready at Dawn's headquarters is becoming an Orange County hub of sorts for creative-office space.
That's by design.
The campus, about a mile from the Irvine Spectrum shopping center, is increasingly being marketed toward large and small companies looking for more progressive workspaces.
The property—in addition to the flexible, open offices seen at Ready at Dawn—offers ample outdoor meeting space and gathering places that provide opportunity to interact with numerous other tenants, said Newport Beach-based Irvine Company, owner of the Discovery Business Center.
The offices are a "premier employee base for recruiting and collaboration," according to center marketing materials.
And area tenants like Ready at Dawn are increasingly looking to use their offices as extensions of their corporate brands and cultures, putting their unique stamps on their digs, said Steve Case, executive vice president of Irvine Co.'s office division.
It's a trend that's been gaining steam in markets like Silicon Valley, where Irvine Co.—Orange County's largest office owner—has a sizable portfolio.
Case said Irvine Co. has taken lessons learned from Silicon Valley in the design of some of its Irvine offices into more creative-style spaces.
"One of the most fascinating things we found is that the companies that are creating technology, like Apple and Google, are spending the most on their workplaces," Case said. "They want (offices) that will make their employees want to come to work."
Irvine Co. reportedly leases several buildings in Silicon Valley to Apple, in addition to having other notable technology tenants.
"We've spent a lot of time with these companies," Case said. "They're ahead of the curve."
Irvine Co. said it also works frequently with Newport Beach-based interior planning and design firm H. Hendy Associates, the Irvine office of Interior Architects, and Irvine-based architecture firm LPA Inc. on its creative-office campus projects.
Small Tenants
Discovery Business Center has its share of larger tenants, including Kofax Inc., Thales USA and Boost Mobile, but Case said Irvine Co. is also trying to accommodate smaller businesses.
It recently converted two single-tenant buildings at the campus into creative space for smaller users in the 2,000-square-foot to 7,000-square-foot range, adding employee fitness areas, conference rooms, break rooms and outdoor amenities, such as frequently used barbecues.
The buildings, whose tenants have an average of 10 to 20 employees each, are now fully leased at above-market rents, Case said.