TRADITIONAL INDUSTRIES STICK WITH OLD-SCHOOL OFFICES
Creative Types' Drive for Open, Fun Spaces Fuels Trend
Saturday, July 20, 2013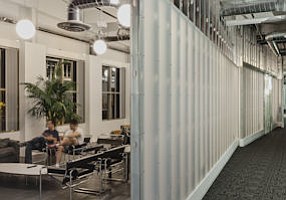 You wouldn't mistake the outside of Ready at Dawn Studios LLC's Irvine headquarters for the 2.8-million-square-foot mother ship office planned for Apple Inc. in the Silicon Valley, but the inside of the gaming company's offices at Discovery Business Center has a look that could hold its own in Cupertino.
Exposed ceilings, abundant open meeting areas and office spaces, windows and stainless steel appliances give Ready at Dawn's office a high-end, contemporary look increasingly common among technology and other companies with a creative bent.
The space's gray, monochromatic color scheme also echoes the fog-shrouded hues seen in early artwork for the company's upcoming video game, "The Order: 1886," which is being released this year for PlayStation 4.
Add to that a bevy of amenities, including a movie theater where employees can relax on their breaks and a break room with space for impromptu video game contests, and Ready at Dawn's headquarters looks as much bar-and-game venue as office.

The Newport Beach office of San Francisco-based architecture firm Gensler, known for its creative-office designs, planned the gaming company's open space with plenty of input from executives and staff.
Ready at Dawn had leased traditional-style offices while establishing itself and patiently holding out for the right spot.
"We've been around for nearly 10 years and were waiting for the opportunity to build our own space," said Ru Weerasuriya, Ready at Dawn cofounder.
The office opened in December and has had an immediate impact on the company, said Weerasuriya, formerly a senior artist at Irvine-based Blizzard Entertainment Inc.
Impact
"The (office) dynamics have changed," he said, explaining that there's more collaboration among employees and a new excitement in the air.
The company's getting buzz in gaming circles about the upcoming launch of "The Order: 1886," which it announced about a month ago. But its new office also is drawing plaudits.
"We don't really advertise the space," Weerasuriya said. "But people who come here are impressed, especially those who've worked for other gaming companies."
The company employs about 90 people and is currently looking to fill an additional 25 positions.
The new office acts as a good recruitment tool, Weerasuriya said.
Gaming companies are known for their long working hours, and some of the amenities at Ready at Dawn's space take those demands into account.
One section of the office includes lounge chairs—an employee's idea—as well as an area set aside for relaxation and reflection.
Prev Next