OC Car Sales Up 13.4% in 1st Half
Thursday, July 18, 2013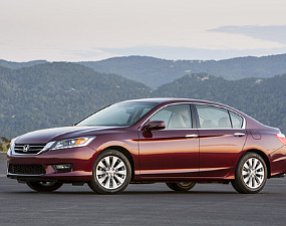 Sales of new cars at Orange County auto dealers increased 13.4% in first half of 2013, according to a year-end report from the Newport Beach-based Orange County Automobile Dealers Association.
Registrations of new vehicles—which generally reflect local sales—totaled 82,112, up from 72,424 year to date in 2012. OCADA said it expects new registrations to approach 164,000 units by the end of the year, nearing pre-recession levels.
Consumers purchased 51,099 cars and 31,013 light trucks in the first half, up 12.6% and 14.8% respectively. Japanese brands led the pack in terms of the volume of cars sold— 40,467— and year-to-year increase in registrations, combining for a 15.5% increase. U.S. brands—GM, Ford, and Chrysler— combined for a 15.2% gain, with 16,150 vehicles sold, up from 14,021 in 2012. European brands accounted for 16,701 vehicles, which translated to a 10.1% increase since last year.
Honda Accord was best-selling standard midsize model, with 3,341 units representing a 24.8% share of its category. Toyota Prius led the sub compact cars, followed by Honda Civic and Toyota Corolla. Mercedes C-Class was the best seller among near luxury cars, while Mercedes E-Class led the luxury category with 1,131 units sold.
Toyota Sienna was the top-selling minivan, Honda CRV first among compact SUV, while Ford Explorer led full-size SUVs. Lexus RX was the best-selling luxury SUV.
New-car sales also saw a 7.5% gain nationwide, while Los Angeles County went up 15.6%.