Midday Stock Roundup
Wednesday, July 17, 2013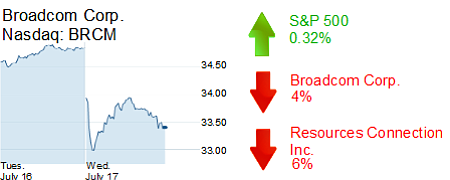 The S&P 500 rose 0.32% to 1,681.65 in afternoon trading Wednesday.
The Dow Jones industrial average was up 0.06% to 15,460.69, while the Nasdaq was up 0.30% to 3,609.15.
The yield on a 10-year Treasury bond was off 1.54% to 2.49%.
The price of gold slipped 1.23% to $1,274.50 per ounce.
TECHNOLOGY
Irvine-based chipmaker Broadcom Corp. shares were off about 4% to $33.62 on a report from Barclays that said Samsung is using chips from San Diego rival Qualcomm Inc. in its Galaxy S4 Mini. Broadcom had a recent market value of $19.2 billion.
Irvine telescope maker Meade Instruments Corp. jumped about 14% to $4.17, a day after the company announced it had agreed to be sold to China-based Ningbo Sunny Electronic Co.'s Sunny Optics Inc. unit. The agreement cancels a previous deal the company had to be sold to JOC North America LLC. Meade had a recent market value of $4.89 million.
SERVICES
Irvine-based professional services firm Resources Connection Inc. was down about 6% to $12.53, a day after the company reported revenue and net income down for the quarter and year ended May 25. The company had a recent market value of $510.96 million.
RESTAURANTS
Huntington Beach-based BJ's Restaurants Inc. was down about 2% to $38.61 for a market value of $1.09 billion. Restaurant companies were generally down on Wednesday. The company, which operates a chain of 135 restaurants, announced the opening of its Jacksonville, Fla. location earlier this week. It's the sixth restaurant the company has opened so far this year with plans to open a total of 17 by the end of the year.