Luxe Travel Buys Florida Travel Agency
Tuesday, July 16, 2013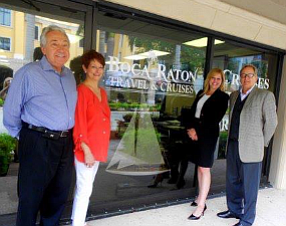 Irvine-based LUXE Travel Management inked a deal for a Florida travel agency that is expected to boost the company's offerings in the leisure market.
LUXE Travel is what's known in the industry as a travel management company and holds contracts with airlines, hoteliers, car rental companies and other suppliers to assist its clients with corporate travel, online booking, cost containment and discounts.
LUXE has annual revenue of more than $100 million with offices in Beverly Hills, Chicago, Dallas and Boca Raton. The company has 35 workers here and 60 companywide.
About 70% of LUXE's business is made up of corporate travelers, said Chief Executive Craig Carter.
The purchase of Boca Raton Travel & Cruises on undisclosed terms gives LUXE greater access to the leisure market, Carter said.

"We anticipated growth in the leisure market this year and in preparation for that growth we decided we would want to make a significant acquisition in the leisure market," Carter said. "This gives us better cruise contracts and contracts with hoteliers in certain high-end leisure markets. We're now able to offer clients cruise amenities. It helps augment our business."
Boca Raton Travel & Cruises has sales of more than $12 million and adds about 10 workers, excluding independent agents, to LUXE's fold.
The Boca Raton deal follows LUXE's purchase of Bruce Travel earlier this year, another Florida-based agency, which brought 12 workers to the company. Bruce now operates as LUXE Travel.
Carter said another deal could be on the horizon.
The company just entered talks with another agency outside of California with negotiations expected to take about six months, Carter said.
"We believe we're pretty well set on the leisure side and are looking for another corporate account," Carter said.