Former Oakley Boss Named Billabong CEO
Tuesday, July 16, 2013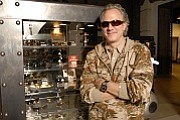 Australia-based Billabong International Ltd. named former Oakley Inc. head Scott Olivet to the top spot at the struggling surfwear company as part of a $294 million bridge loan deal.
The financing comes from a group led by Altamont Capital Partners in Palo Alto and New York-based GSO Captital Partners. The deal follows negotiations that have dragged on since late last year starting with dual offers to purchase the entire company.
Those talks officially ended in June and the company had since been exploring financing options and possible asset sales. Billabong International, the parent of Irvine-based Billabong USA, requested a halt on trading late Monday on an expected company update.
Billabong also said it plans to sell its Dakine brand to the Altamont consortium for $64.5 million in a deal expected to close July 22.
Dakine makes backpacks, luggage and other accessories and is headquartered in Hood River, Oregon.
Last month the company said it was exploring a sale of its Canadian retail chain West 49.
The company owns various other apparel and retail brands, including its namesake line, VonZipper, RVCA, Element and Sector 9.

The Dakine sale and Olivet's appointment are part of the agreement Billabong International struck with the Altamont/GSO group on a $294 million bridge loan.
Olivet had been rumored to be tied to Altamont's original bid to buy Billabong International and was reportedly set to run the non-Billabong brands.
Talks over the company's sale officially ended last month with no deal struck.
Altamont also gets two seats on the Billabong board as part of the agreement, which it plans to fill with Jesse Rogers and Keoni Schwartz, both cofounders and managing directors of the firm.
Olivet will replace Launa Inman, the former managing director of Target Australia Pty. Ltd., who was brought in last May to turn around the company.
However, Inman's run as chief executive was mired in the drama surrounding the company's potential sale. Americas President Paul Naude temporarily stepped down from his post late last year to explore a purchase of the entire company with New York private equity firm Sycamore Partners Management.
It is unclear when Inman will officially step down. Billabong International said it is still sorting out the terms of Olivet's appointment.
All terms are subject to shareholder approval.
The company's shares last traded at $0.23 for a market value of $112.47 million.