Midday Stock Roundup
Friday, July 12, 2013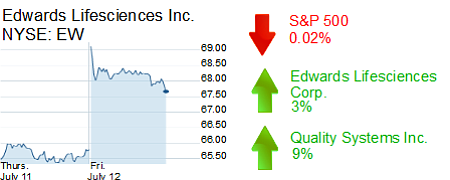 The S&P 500 was down 0.02% to 1,674.61 in afternoon trading Friday.
The Dow Jones industrial fell 0.08% to 15,448.08, while the Nasdaq rose 0.08% to 3,581.07.
The yield on a 10-year Treasury bond was up 0.31% to 2.58%.
The price of gold was off 0.31% to $1,275.90 per ounce.
HEALTHCARE
Irvine-based heart valve maker Edwards Lifesciences Corp. was up about 3% to $67.98 after a German court ruled in Edwards' favor in a patent case involving rival Medtronic Inc. The ruling prohibits Medtronic from selling its CoreValve and CoreValve Evolut in Germany, and also requires the company to pay damages to Edwards for infringing on its patent. Edwards had a recent market value of $7.68 billion.
Medtronic shares were down about 1% to a market value of $53.66 billion.
TECHNOLOGY
Irvine-based Quality Systems Inc. rose 9% to $21.83 after its stock was upgraded from "neutral" to "outperform" by analysts at Robert W. Baird & Co. Quality Systems had a recent market value of $1.3 billion. The company makes software used by doctors, dentists and small hospitals.