Midday Stock Roundup
Thursday, July 11, 2013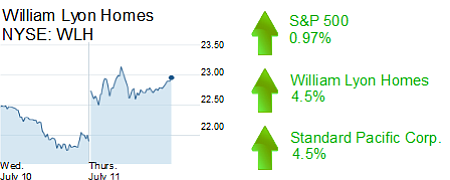 The S&P 500 rose 0.97% to 1,668.61 in afternoon trading Thursday.
The Dow Jones industrial average was up 0.84% to 15,420.29, while the Nasdaq was up 1.24% to 3,564.72.
The yield on a 10-year Treasury bond was off 3.17% to 2.59%
The price of gold rose 2.54% to $1,279.10 per ounce.
Homebuilders surged Thursday on research from Bloomberg that showed an increase in the sale of securities linked to housing companies. New data from Freddie Mac also showed mortgage rates continuing to rise in another sign of the housing recovery.
Irvine homebuilder Standard Pacific Corp. was up about 4.5% to $8.60. It had a market value of $2.98 billion.
Newport Beach-based William Lyon Homes rose about 4.5% to $22.90 for a market value of $719.91 million.
TRI Pointe Homes Inc. of Irvine was up about 4% to $16.57. It had a recent market value of $523.59 million.