APPAREL: GARDEN GROVE COMPANY OPENS POP-UP SHOP
Three Dots Mulls Return to Retail Game
Saturday, July 6, 2013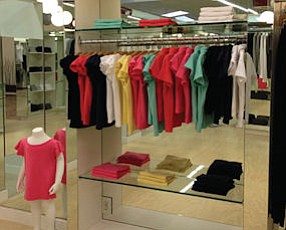 Clothing quality is tightly managed, with cutting, finishing and most of the sewing done out of the company's 70,000-square-foot facility in Garden Grove.
The pop-up serves as proof of the company's continuing improved business outlook, and the company sees it as a litmus test for future retail.
"There's interest in definitely opening a flagship [store], but this opportunity really came at the right time and place," Polny-Andrews said.
The store inside Fred Segal is set for a six-month run through the end of the year.

Children's Line
The company is also testing a children's line in the U.S. that Polny-Andrews describes as a "small capsule" consisting of six styles, with a few more pieces expected for fall.
The line, whose pieces range from $38 to $68, isn't new for Three Dots. It's been out in Japan for the past four years.
"The market in Japan is quite different," Polny-Andrews said. "They actually look at us as a whole lifestyle brand. They also carry an extensive group of men's styles, so it's accommodating the whole family of Three Dots."
And Three Dots sees itself as accommodating the whole family in Japan, beginning with fashionable mothers and trickling down to those women's husbands and kids.
Three Dots works with a distribution partner in Japan that gets its clothes onto store shelves. The distribution agreement also calls for that company to operate the two Three Dots stores in Japan, with a third expected to open in 2014.
The women's line remains the main source of the company's revenue to date, and it's expected to stay that way, Polny-Andrews said.
"It always has been and always will be," she said. "However, there's always room to enter new areas in the marketplace. Children's and men's do lend to the brand."
Prev Next