APPAREL: GARDEN GROVE COMPANY OPENS POP-UP SHOP
Three Dots Mulls Return to Retail Game
Saturday, July 6, 2013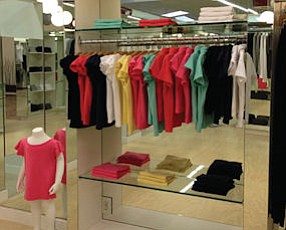 Three Dots LLC, the Garden Grove-based maker of high-end tops, tanks and other basics, has dipped a toe back into retail.
The brand, which is sold in Intermix, Bloomingdale's and several boutiques in the U.S., Japan and other countries, has opened a pop-up shop inside the Fred Segal store in Santa Monica, the Los Angeles purveyor of high-end fashion that frequently attracts celebrities.
It's a temporary but sizable chunk of real estate, at 1,000 square feet, inside a highly trafficked retailer.
Three Dots, with estimated annual sales of more than $35 million, opened the space earlier this summer for a soft launch and is planning a grand opening party for this month.
"In the retail world right now, pop-up stores are highly on trend," said Three Dots Director of Merchandising Lisette Polny-Andrews. "It's an interesting way to build a story behind a store. It also gives you an opportunity to really study the demographic of where the space is and to figure out where the best home is."
There's reason to be cautious.
This isn't the first time the clothing brand has dabbled in U.S. retail. The company opened its first store in the U.S. in 2007 on Melrose Avenue in Hollywood, and it closed after just a year-and-a-half.
The timing was bad with the onset of the recession. And the location—while on Melrose and across from Fred Segal's other store—had light pedestrian traffic and failed to generate a strong enough walk-in business to support it.
"The location just didn't drive traffic, so unfortunately it just wasn't as successful as we had hoped it could be," Polny-Andrews said. "I think it was timing, but it was primarily a location issue."
The company took a hit during the downturn like many of its peers, mainly due to the closure of specialty stores that carried its line.
But Three Dots founder and Chief Executive Sharon Lebon told the Business Journal last year that the "tide is changing" in business.
Lebon was unavailable to comment for this story.
She said last year that sales were up slightly in 2011 from 2010 and projected they'd be up about 20% to 25% last year.
Lebon founded Three Dots in 1995, starting out with a limited line of high-quality basics that has since grown to include knits, cashmere and wovens with average prices of $40 to $80. She chose the Three Dots name and logo to represent ellipses and to symbolize the idea of what's to come for the brand.
Prev Next