Midday Stock Roundup
Friday, July 5, 2013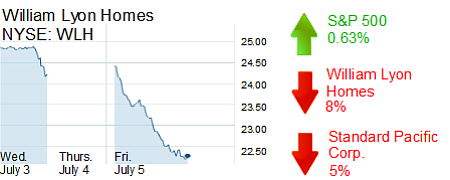 The S&P 500 rose 0.63% to 1,625.53 in afternoon trading Friday.
The Dow Jones industrial average was up 0.64% to 15,083.85, while the Nasdaq was up 0.59% to 3,463.60.
The yield on a 10-year Treasury bond jumped 8.72% to 2.72%.
The price of gold slipped 3.01% to $1,214.20 per ounce.
Homebuilders were generally down on Friday following a strong jobs report that could push the Federal Reserve to wind down its monthly bond-buying program sooner. The program has helped to keep mortgage rates low.
Shares of Newport Beach-based William Lyon Homes fell about 8% to $22.25 for a market value of $699.47.
Irvine-based Standard Pacific Corp. slipped about 5% to $7.71 for a market value of $2.68 billion.

Irvine-based TRI Pointe Homes Inc. was down about 2% to $15.73 for a market value of $497.02 million.