Midday Stock Roundup
Monday, July 1, 2013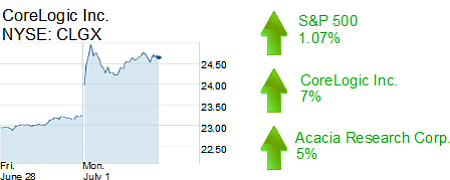 The S&P 500 rose 1.07% to 1,623.53 in midday trading Monday.
The Dow Jones industrial average was up 1.02% to 15,061.41, while the Nasdaq was up 1.35% to 3,449.05.
The yield on a 10-year Treasury bond rose 0.24% to 2.48%.
The price of gold was up 2.54% to $1,254.90 per ounce.
REAL ESTATE
Irvine-based CoreLogic Inc. was up about 7% to $24.71 after the company announced its $661 million purchase of three data and analytics companies. CoreLogic had a recent market value of $2.36 billion.

TECHNOLOGY
Newport Beach-based patent licensing company Acacia Research Corp. was up about 5% to $23.46 for a market value of $1.15 billion. The company announced a number of acquisitions on Monday, including a portfolio of ink jet printer and printing technologies, and another for content security patents for use on consumer electronics. Acacia also announced three settlement agreements.
HEALTHCARE
Irvine-based Endologix Inc. was up about 6% to $14.04 for a market value of $881.68 million. The medical device maker said in preliminary second-quarter results that unaudited revenue for the quarter rose 33% to $34 million.
RESTAURANTS
Huntington Beach-based BJ's Restaurants Inc. was up about 3% to $38.39 for a market value of $1.08 billion. Restaurant operators were generally up in afternoon trading Monday.