Fisker Sets February Deadline to Find Partner
Monday, January 28, 2013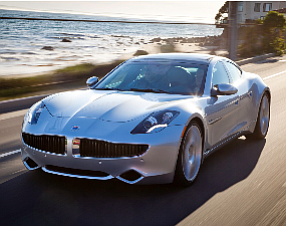 Anaheim-based Fisker Automotive Inc. hopes to find an investor by next month.
The automaker has been searching for a partner since late last year, and has hired investment bank Evercore Partners Inc. to assist in the process.
The Wall Street Journal recently reported that two potential investors have hired banks to help prepare offers. The Journal reported that Fisker is running low on funds and supplies necessary for its luxury hybrid Karma model and production of a second model it plans, called the Atlantic. Fisker can't get batteries from supplier A123 Systems Inc., which went bankrupt last year and is expected to be sold soon.
Fisker spokesperson Roger Ormisher declined to comment on the February deadline or offer any specifics on potential investors.
He told the Business Journal "we're talking to a number of strategic, potential partners."
These talks include other auto manufacturers and suppliers from around the world, Ormisher said.
Reports peg Wanxiang America Corp., whose parent is Wanxiang Group of China, as a likely investor.
Wanxiang America struck a deal to buy Waltham, Mass.-based battery maker A123 Systems Inc.—Fisker's battery supplier—out of Chapter 11 last year. The deal still requires the approval of federal regulators.
Production on the Atlantic has been on hold since $335 million of a $529 million Department of Energy loan was suspended due to missed sales and production milestones on Fisker's Karma sedan.