Wall Street Chatter on WD Going Private
Wednesday, January 23, 2013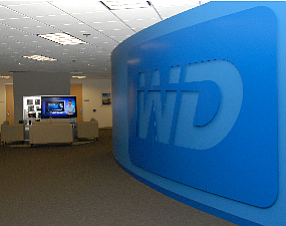 A bid to take Dell Inc. private is causing a stir on Wall Street that Irvine-based Western Digital Corp. could follow suit.
Western Digital, the world's largest disk drive maker in units shipped and revenue, is a prime candidate to go private, according to Mark Miller, an analyst at Noble Financial Capital Markets.
Miller, a former research manager at Western Digital, made his comments to Bloomberg Tuesday.
The company's shares rose nearly 6% to a 15-year high of $47.36, for a market value of about $11.5 billion, at the close of trading Tuesday.
That came after an analyst upgrade and Western Digital's announcement it has acquired Arkeia Software Inc., a Carlsbad-based provider of backup software, on undisclosed terms.
Western Digital did not immediately return a call for comment on the latest reports.
Shares were down by less than 1% in early afternoon trading Wednesday.
Dell founder and Chief Executive Michael Dell, who also runs the New York private equity firm MSD Capital, is leading a management buyout with Silver Lake Management LLC to take his company private, according to several media reports.
Microsoft Corp. also has been mentioned as a possible partner in a bid.
The price tag is expected to top $20 billion.