Lutz Startup: Karma Body, Corvette Engine
Wednesday, January 16, 2013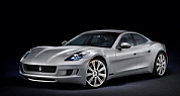 A startup carmaker guided by one of the auto industry's best-known names is combining the body of Anaheim-based Fisker Automotive Inc.'s Karma sedan with the gasoline-powered engine of a Chevrolet Corvette.
VL Automotive recently displayed its Destino at the Detroit Auto Show, which runs through Jan. 27.
The company is run by former General Motors Vice Chairman Bob Lutz, who is credited with driving the development of the Chevy Volt electric vehicle.
VL Automotive is using a modified version of the Karma. It has already purchased 20 of the sedan bodies from Fisker, according to reports from the auto show.
The car is expected to be made in Auburn Hills, Mich., with early reports pegging its price at about $180,000.