Fisker Sues Insurer on Hurricane Sandy Claim
Thursday, January 3, 2013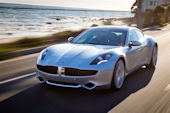 Anaheim-based Fisker Automotive Inc. is suing its insurer over a denial of a claim on damages to 338 of its luxury hybrid Karma sedans during Hurricane Sandy in October.
The cars were at the Port Newark Container Terminal, set for shipment to dealers, when the storm struck.
The automaker said in its lawsuit that it filed the claim with XL Insurance American Inc. in November, and it was denied last month.
The dispute appears to be over the language in the insurance policy, which specifies coverage of "insured premises." Fisker is arguing that property that's being shipped should be covered by the policy.
The automaker values the damage done to the Karmas at about $33 million.