GLENNWOOD HOUSE TAKES SHAPE IN LAGUNA BEACH
Special Place for Special Needs
Sunday, February 24, 2013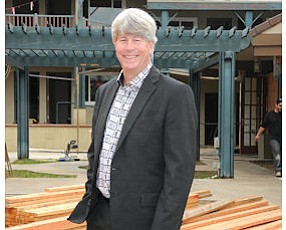 He and his wife founded The Lighthouse Group in Irvine 10 years ago to give the kids the opportunity to take part in camping, boating and other activities.
The organization, run by Larson's daughter, Heidi Sterling, hosts activities such as movie nights and summer camp at Shaver Lake.
"They get to go behind my ski boat, kayak, and they get to fish," Larson said.
Larson has been described as a visionary, a guy who won't let up.
AADD
His wife calls him AADD (Type A personality with attention deficit disorder).
It serves its purpose.
He comes up with ideas, the plan, and his staff and board help pull it all together.
The next need that arose for the parents was helping their special-needs kids live more independently as they moved into adulthood.

Many of the parents began facing health issues. They worried about their children's future in the event of their death.
Many of the parents are single mothers, Larson said.
The parents also want their adult children to work and lead their own lives.
Larson began planning for a residential community about the time the economy went belly-up.

In 2009 he formed private nonprofit Glennwood Housing Foundation Inc. He recruited a board and went about finding land and a city that would embrace a special-needs housing community.
One day, as he was driving along PCH, he spotted a "for sale" sign posted at a vacant 40-year-old former assisted-living facility in Laguna Beach.
He pulled over and called the real estate agent.
There was another offer ahead of him, but that project, a seven-story retirement home, fell through.
Larson secured the building. Then he and another board member held Saturday sessions with the public to allay fears. They asked about noise and parking.
"You name it we covered it," he said. "It was probably the best thing we ever did."
Standing O
A few months later, when Larson made his presentation to the city council for a conditional use permit in April 2011, the project was unanimously approved.
"We got a standing O for our presentation," Larson said.
Laguna Beach has turned out to be the ideal setting for the residential facility.
"Laguna has really embraced he whole idea," said Shauna Bogert, executive director, who was born and raised in Laguna Beach. "Laguna loves a good cause. Laguna really loves diversity."

The city, neighbors and Laguna nonprofits have rallied.
Gardening groups have volunteered landscaping.
Neighborhood nurses and a nearby doctor offered emergency services.
Artists have offered to teach at Glennwood House. Laguna art festivals have invited residents to display their work.
"I don't even know if these kids are going to sleep," Larson said. "The community is excited to get them to go do other stuff."
Employers such as Salt Creek Grille Restaurants have offered job placement for Glennwood House's future residents. The Laguna Beach Chamber of Commerce is also helping to identify possible employers.
"It's just been amazing," Larson said. "People have come out of the woodwork."
Prev Next