O'Neill's Bost Goes "Undercover"
Friday, February 22, 2013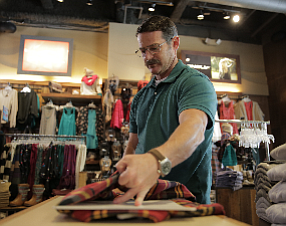 Toby Bost, chief executive of Irvine-based O'Neill Clothing USA, went undercover for the CBS reality show "Undercover Boss."
The show follows the heads of companies in various industries as they take on a disguise and work alongside employees at operations outside of corporate headquarters.
Bost donned a fake mustache and gray hair to work at O'Neill's stores and a warehouse as well as an affiliated screen-printing facility.
"I approached this opportunity as a unique chance to see how we can improve our operations, sales training and internal communication with employees," Bost said in a statement. "I was able to have hands-on experiences and learn from the people who are creating and selling the clothes we make, engaging daily with consumers, buyers and other retail partners, and keeping this company ticking and thriving every day. There was no special preparation going in, there were certainly a lot of surprises and, most importantly, great insight in terms of where we can improve and better support our dedicated team members."
The episode, which was taped late last year, airs tonight at 8 p.m. and also will be available for viewing online.
Bost has served as head of O'Neill Clothing USA for the past seven years and also runs Irvine-based La Jolla Group Inc., which has the license to make clothing and accessories under several brands including Metal Mulisha, FMF, The Berrics and Rusty.