Report: Chinese Automaker's $350M Bid for Fisker Among Several Offers
Friday, February 15, 2013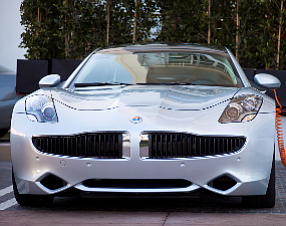 A number of potential investors have made bids for Anaheim-based luxury hybrid automaker Fisker Automotive Inc., according to a Bloomberg report.
One is a $350 million offer from Chinese automaker Dongfeng Motor Corp., which is seeking an 85% stake in cash-strapped Fisker, according to the story.
Fisker spokesperson Roger Ormisher, who could not be immediately reached for comment on Friday's Bloomberg report, told the Business Journal last month that the automaker is talking to "a number of strategic, potential partners," including other automakers and suppliers throughout the world.
Fisker recently hired Los Angeles-based investment bank Evercore Partners Inc. to assist on its search for an investor, with the aim of having a deal sometime this month.
In January the automaker hired Chicago-based Huron Consulting Group Inc. to handle its day-to-day operations and its cash reserves.
Fisker's first car, the Karma, sells for about $100,000. Sales have been below initial expectations, and more recently disrupted by a lack of batteries in the wake of its supplier's bankruptcy.
Production on Fisker's second model, the Atlantic, has been on hold since the suspension of $335 million of a $529 million Department of Energy loan as a result of missed sales and production milestones on the company's Karma sedan.