Wet Seal SVP of Store Operations Resigns
Tuesday, February 12, 2013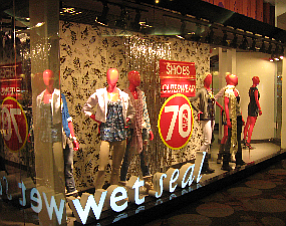 Foothill Ranch-based teen and contemporary retailer Wet Seal Inc. announced the resignation of its senior vice president of store operations.
Barbara Cook, who joined the company from San Francisco retailer Gap Inc. in November 2011, is leaving Wet Seal for a "new professional opportunity," the company said Monday.
Cook is expected to stay with Wet Seal until Feb. 20.
Wet Seal operates 468 of its namesake stores for teens and 62 Arden B stores geared to young women.
The company, which has been wrestling with a turnaround for several years now, announced earlier this month the resignation of former President and Chief Operating Officer Ken Seipel, along with the elimination of 35 jobs, most of those at the corporate level and some that are currently vacant.
The chief operating officer position has since been eliminated with the duties now split between Chief Executive John Goodman and Chief Financial Officer Steve Benrubi.
Wet Seal had net income of $15.1 million and sales of $620.1 million for the year ended Jan. 28, 2012.