INGRAM MICRO'S HUMES TAKES ADDITION OF COO'S DUTIES IN STRIDE
More Than the Money Guy
Saturday, February 9, 2013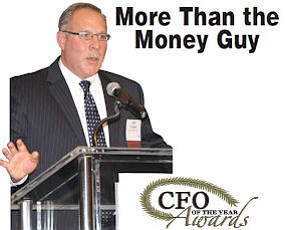 Humes kept an eye on the purchase price to guard against gaps between Australian and U.S. dollars, he said.
"I was very involved in negotiations on that deal and subsequent leadership and integration," he said.
Tech Pacific became a pillar of Ingram Micro's Asia-Pacific region, which now generates more than $5 billion in annual sales and is the company's fastest-growing market.
The biggest buy in Ingram's history came in October, when it paid $840 million for BrightPoint Inc., an Indianapolis-based wholesale distributor that brought high-growth, high-margin business lines of products and services for the mobility segment, which includes smart phones, accessories, tablets, laptops and activation services, among others.
BrightPoint saw $6.3 billion in sales in 2011 with earnings of $48.8 million.
Humes led a favorably priced 10-year $300 million bond to help finance the deal, which added more than 25,000 customers and 100,000 distribution points for Ingram Micro across the globe.
Monié
Humes worked closely with Ingram Chief Executive Alain Monié in identifying BrightPoint as a prime acquisition target and building the financial model behind the deal, which included mapping out anticipated cost savings and revenue.
"We have a great working relationship," he said. "We can bounce things off each other fairly well."
Prev Next