INGRAM MICRO'S HUMES TAKES ADDITION OF COO'S DUTIES IN STRIDE
More Than the Money Guy
Saturday, February 9, 2013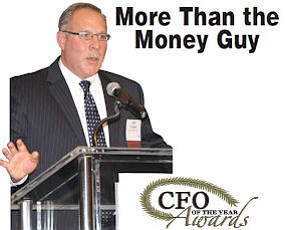 Perhaps no one knows the inner workings of Ingram Micro Inc. better than William Humes, who has been the chief financial officer of the Santa Ana-based company since 2004.
He added the chief operating officer's role last year.
The two titles together have Humes overseeing Ingram Micro's global finance operations, information systems, logistics and business processes.
He's taken on the COO's duties in stride.
"It was a natural fit in the sense of expanding my involvement in things I was already intricately involved in," Humes said.
The chief information officer reports directly to him, as do the executives in charge of warehouse operations and the company's strategic sourcing group, which handles relationships with thousands of suppliers.
His finance team, meanwhile, counts some 1,500 staffers in the company's four operating regions: the Americas, Europe, Asia-Pacific and Latin America.
Ingram Micro serves some 145 countries and operates 105 global distribution centers, including its sprawling 1.2 million-square-foot operation in Mira Loma that's spread over four buildings.
$36.3B
It is the biggest distributor of computers, software, and other technology products in the world. Ingram is also the largest company in Orange County by revenue, with $36.3 billion in annual sales.
The company operates under razor-thin margins, typically netting less than a penny on the dollar. It has a market value of about $2.76 billion.
The size and nature of Ingram's operations bring a different set of challenges for the finance chief.
It's common for capital requirements to swing by $1 billion or more from quarter to quarter.
Humes was honored in the Lifetime Achievement category at the annual CFO of the Year Awards presented on Jan. 29 by the Business Journal and the California Society of Certified Public Accountants.
PwC
Humes was at PricewaterhouseCoopers LLP for nine years, where he reached the upper rungs of senior management.
His tenure at Ingram Micro began in 1998 as senior director for worldwide financial planning, reporting and accounting. He has also served as controller for various business units within the company and did a stint in the job at the corporate level.
Since then, he said, his two biggest achievements as CFO were closing Ingram's largest acquisitions to date.
The first of the deals came in 2004, when Ingram Micro acquired Australia-based Tech Pacific Ltd. for $530 million. Tech Pacific was floundering at the time, racking up losses on operations spread over Australia and Asia.
Currency Concerns
Prev Next