COMPANY GROWS AS GUARD AGAINST FRAUDULENT RETURNS TO RETAILERS
This Equation Adds Up
Saturday, February 9, 2013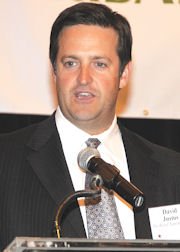 David Justus helped bring The Retail Equation Inc. in Irvine through the recent recession and into position as an established player in thwarting merchandise scams for the nation's largest retailers.
The company was burning through cash back in 2009. It had $1.2 million in debt, and cash reserves were under $200,000. Its customers were facing their own financial problems.
Challenges
"One of the biggest challenges of a small company is allocating capital in such a manner that you're fielding growth, but not so fast that you're running out of money," said Justus, who was named the Rising Star at the annual CFO of the Year Awards presented on Jan. 29 by the Business Journal and the California Society of Certified Public Accountants.
The Retail Equation started in 1999 with backing from La Jolla-based Enterprise Partners Venture Capital, and it set out as a specialist in retail returns. Its roster of statisticians and Ph.D.s run algorithms and various other mathematical models to determine the normal range of returns for retailers. They analyze data on a return in real time to identify any spikes or other outliers that might indicate fraud.
Its data system then authorizes or denies the return.
The National Retail Foundation estimates fraudulent returns cost retailers some $18 billion annually.
The Retail Equation's systems are carried in more than 17,000 stores in the United States. Customers include The Home Depot, Best Buy, AutoZone and Victoria's Secret.
The company made a bet on growth during the downturn, backing that bet up with spending on sales and marketing.
The move paid off as its customer roster and profits grew, and the balance sheet strengthened.
"We were able to grow the company and positioned it to sell to a private equity firm," Justus said.
That came in October 2011, when Enterprise Partners sold Retail Equation for an undisclosed sum to Norwest Equity Partners, the Minneapolis-based private equity arm of Wells Fargo.
Retail Equation, which doesn't disclose sales or revenue, now employs about 40 people, with most in OC.
Fragile X
Getting Retail Equation through the recession wasn't the biggest challenge Justus faced in 2009.
His infant son, Tyler, was failing to meet normal child development milestones such as chewing food, crawling, or speaking his first words.
The Justus family turned to healthcare specialists and approved a series of tests on Tyler, who shows no visible characteristics of mental impairment.
At a year old he was diagnosed with Fragile X syndrome, a rare condition that affects less than 100,000 people in the U.S. annually.
Prev Next